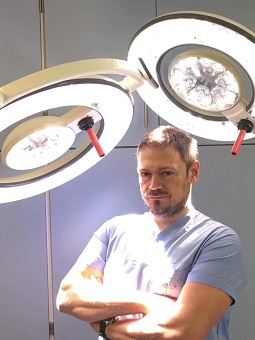 Dr. Zisiadis Dimitris was born and raised in Peristeri, Athens. He is a graduate of the Medical School and has a license to practice the medical profession.
He received his specialty in General Surgery from General Hospital of Attica KAT, while at the same time he was trained in the Laparoscopic Surgery department of the Clinic. His training extends to the repair of hernia, inguinal hernia and abdominal hernia with double mesh and local anesthesia. He is also an approved Ethicon trainee in the field of hernia. He holds the positions of Director of Surgery MDM Greece and Director of Third General Surgery Therapis General Hospital.
In his assets he has a variety of surgeries for the seriously ill and injured in the public sector, but also numerous participations in modern surgical rehabilitation abroad, with insistence on the execution of these methods in Greece. He has participated in a large number of general and laparoscopic surgeries, as well as robotic surgery.
He has been an Associate Surgeon in a large amount of private clinics in Greece, Italy and England (London). Today, he owns three clinics in Athens and uses the most modern equipment and techniques applied worldwide.
Contact HealthCare Greece